HAVING KITEC WATER PIPING WILL COST YOU
Failures of Kitec polyethylene water piping has cost home owners hundreds of thousands of dollars in repairs and replacements and some insurance companies will not insure homes with this water piping.  Defects in materials and design are causing premature failure in the piping and fittings.  The defective piping and fittings were sold by IPEX from 1995 – 2007 in Canada and the USA and installed in nearly 300,000 homes.
Kitec piping is being discovered in homes during the buying and selling process in Ontario, usually at the home inspection.  This is causing lots of grief and anxiety for homeowners and sellers as well as Realtors and home inspectors.  This is an attempt to help all parties involved understand the situation and ramifications moving forward.
The legal history
This is the boring stuff that even I hate researching but it is important to understand the basics of the class action lawsuit – so here is the shortened version for you. 
By 2011 lawyers for many plaintiffs said over 3500 parties had either filed claims or were considering filing.  IPEX (IPEX Defendants) agreed to settle a class action lawsuit effective Jan 9, 2012.  The settlement was agreed upon by IPEX and plaintiffs to avoid costly court proceedings and lawyer fees for both.  The result is a US $125 Million fund to be used to pay claimants for the repair of buildings, homes, residences, or any other structures with a Kitec System and any settlement fund legal and administration fees.  After administration and legal fees the fund for claimants is estimated to be US $93.8 million.
If your Kitec piping has leaked before the deadline and you fixed it, keep your receipts, take photos, keep the broken piping/fitting and go to the settlement website and make a claim.  According to the proposed Plan of Distribution you will receive US $287.50 for each repair behind walls or US $112.50 for each open and accessible repair. If you have not had any leaks/failures then you still want to file a claim on the settlement website before the Jan 9, 2020 deadline because after the deadline the remaining fund will be divided up among the claimants for compensation for damages caused and for removal of all Kitec piping. The final amount paid depends on the type and extent of any possible failure, the size and type of Kitec system and its installation, and the available funds left in the Settlement Fund.  You can make multiple claims before the Jan 9, 2012 deadline if you have multiple failures/leaks and this will increase your portion of the final payout too.  So that gives everyone an idea of what compensation is available and what has to be done to get it and how long it will take.
 How can you tell if you have Kitec water piping and fittings?
You can identify Kitec by looking at the pipe and fittings where they are visible in your home like near the water heater and under sinks. Most of these piping systems were orange and blue for hot and cold water respectively. In the lawsuit settlement "Kitec Systems are defined to mean all of, whether as components, individual parts, or as a system, PEX-AL-PEX, PE-AL-PE, PERT-AL-PERT, PEX pipe, valves, fittings, and/or components, manufactured by or on behalf of the IPEX Defendants whether sold under the names Kitec, PlumbBetter, IPEX AQUA, WarmRite, Kitec XPA, AmbioComfort, XPA, KERR Controls, Plomberie Améliorée, or otherwise." The settlement website has photos to help you identify the components. There are also some photos below that I have taken along with others.   
The first signs of failure are white residue on the brass fittings and/or bulging and blackening of the pipe. From reports, typical failures seem to happen at about the 10 year mark so if you are concerned with failure and water damage consider replacement. Cost to replace all water pipes in a house depends on the house plumbing layout and finishes but about $5,000 to $15,000 is what I have heard from plumbers.
Talk to your insurance company
If you find you have Kitec piping you want to talk to your insurance company and discuss the ramifications with them. Insurance companies are responding differently in assisting homeowners and you want to be certain about your coverage and cost. 
Will it impact selling your home?
YES.  Buying or selling a house with Kitec is a concern. Eventually, it will fail and it will need to be replaced. This can be a significant cost. Some people like Toronto Real Estate lawyer Bob Aaron feels this is serious enough to be included in the mandatory disclosure or warranty statement by home sellers like urea formaldehyde foam insulation and marijuana grow ops.  The possible costs and ramifications are just too high.  I agree with him.
Sample photos and illustrations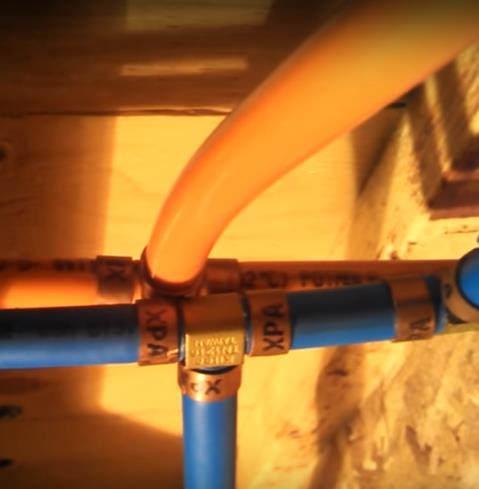 Kitec Fittings – From Brian Imeson you tube video posted 23 Mar 2013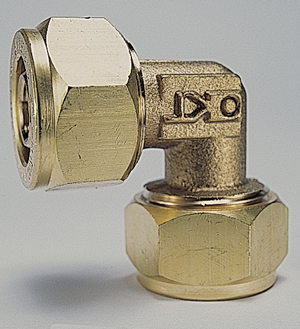 Kitec Brass Compression Fitting – www.kitecsettlement.com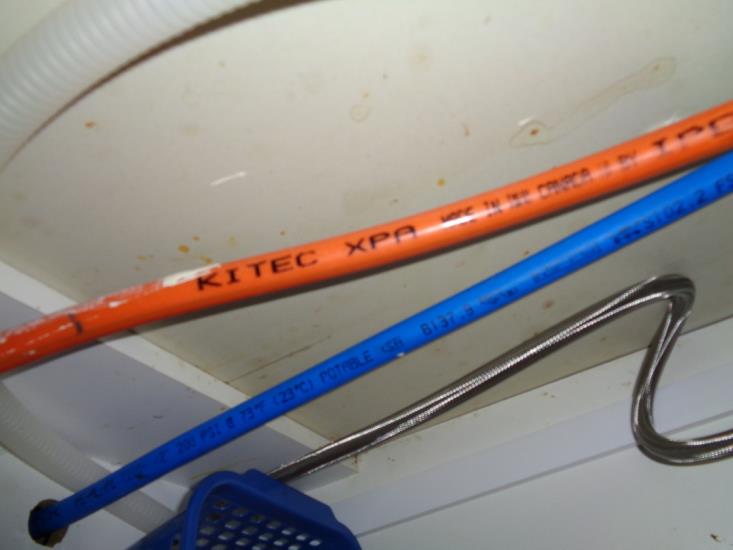 Kitec piping visible under kitchen sink- photo by Brad Durant P.Eng, RHI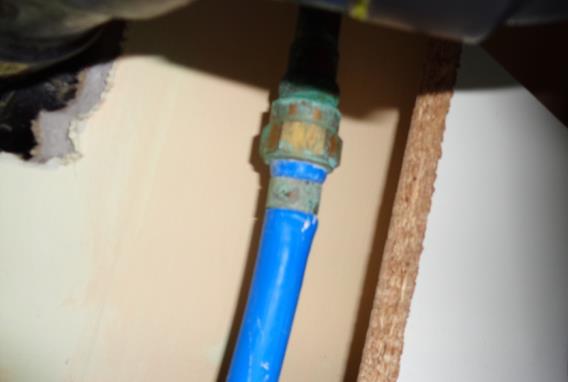 Kitec pipe bulging and cracked – visible under laundry sink – photo by Brad Durant P.Eng, RHI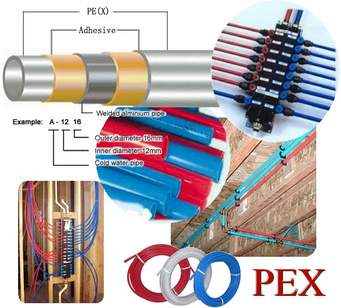 Pex-Al-Pex piping components – from http://wiki.robotz.com/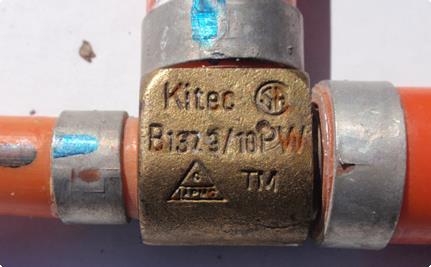 Kitec Fitting -from Donna Harding Team website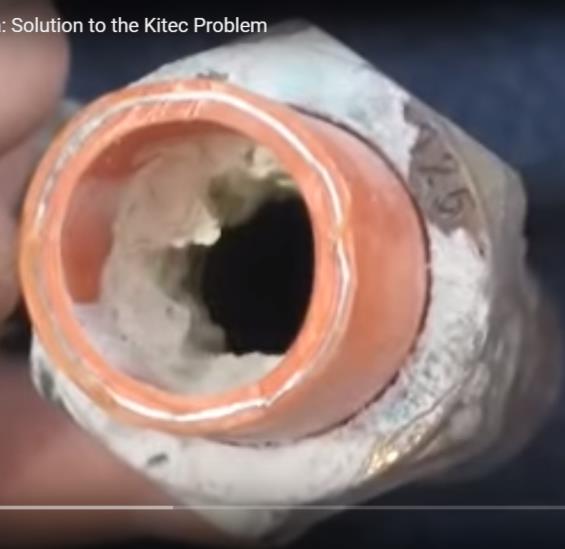 From Re-pipe Specialists of Nevada video 13 May 2008
Sources and Resources
Kitec class action settlement website
CBCNews Windsor class action lawsuit
About the Author:
Brad Durant, RHI, P.Eng.
Civil Engineer since 1989 and Owner of Home Front Professional home Inspections since 2003.  Brad provides personal professional home inspections and Engineering Design Services in Guelph, Kitchener, Waterloo, Cambridge, and Milton areas.